Company
The FIRST and LAST PDR training you will ever need.
Are you new to Paintless Dent Repair and looking for PDR training?
Would you like

honest

answers to your questions and not another sales pitch?
Have you had training in PDR, and still can't do real world dents?
Are you an experienced PDR tech who needs advanced training to remove large and complex dents?
Top Gun PDR Training™ offers a very unique process for learning the art of Paintless Dent Repair. This method cuts the learning curve for most students by at least half in comparison with most other training methods. This is accomplished by combining special exercises, old school metal working theory, and practice into a very focused and flexible training program. As a result, most of the standard exercises and tiresome methods for learning paintless dent removal are no longer needed with the Top Gun method of paintless dent removal training.
As an example, finding your tool tip behind a vehicle panel is generally considered difficult, and can take days to accomplish with other training methods. So far, every Top Gun student has found their tool tip very accurately in approximately 20 - 30 minutes from the time they first take a tool in their hand. This is no exaggeration, but a fact that can easily be verified by our past students or searching PDR forums.
But it's not just the learning curve that is improved. The actual process used to remove dents and creases is improved also. With most paintless dent removal training methods a tech will concentrate on bringing up the dent or crease flat with the panel using dozens or even hundreds of pushes. The Top Gun method concentrates on identifying, then releasing trapped pressure in key areas inside and around the dent or crease in the correct sequence. This results in the dent being done to retail quality in just a few pushes with a tool. The dent is removed as a by product of pressure release, not forced up with a tool.
Does this sound too complex for just fixing dents? Actually learning this method is much EASIER and FASTER than learning other paintless dent removal methods. More importantly, the speed and quality of dent and crease repairs is much improved. This is because the dent was not wrestled with to get a repair, but was released as it needed to be. With this process the dent almost tells you how to remove it. The Top Gun method is also one of the best ways to repair larger and complex dents and creases. Learning this method will also enable you to teach yourself when you come across repairs that challenge you.
WHO ARE WE? Top Gun PDR Training School™ is a small independent training company owned and operated by Marty Runik. He is the originator and developer of the Top Gun process for teaching Paintless Dent Repair. Marty has a long and extensive background as a professional teacher, automotive sheet metal specialist. He also owns a successful retail Paintless Dent repair business and is a peer recognized specialist in LDPDR (Large Dent Paintless Dent Repair)  Please read the Trainer page for a complete biography.
HOW ARE WE DIFFERENT?  WE TELL YOU THE TRUTH! Look through this site and you will read brutally honest information you will not see on any other paintless dent repair training web site . Top Gun PDR Training™ is not a large facility that packs many students into each class. We are a small and very personalized training school that offers QUALITY painless dent repair training to only one to two students at a time. The owner of Top Gun is the ONLY instructor. You will never be trained by an assistant or stand in trainer. The instructor takes training very seriously, and takes pride in his ability to teach, and bring each trainee to their peak performance levels. We know you learn differently than anybody else, so we use methods of paintless dent removal training that accommodate your personal learning style, never a one size fits all approach.
WHERE ARE WE LOCATED? Top Gun PDR Training™ is located in Cameron Park California - 20 miles east of Sacramento.
OUR GUARANTEE. Top Gun PDR Training™ is the last training you will ever need Guaranteed! If you successfully complete the recommended training and practice program, we will offer additional training free of charge. We want you to be totally confident in your abilities in this demanding art.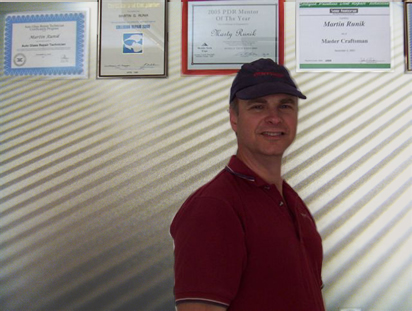 The owner of Top Gun PDR Training is Marty Runik. He has 42 years of experience working automotive sheet metal. He also has 14 years teaching experience in beginning and advanced Paintless Dent Repair. At Top Gun PDR Training we believe being a great teacher is even more important than being a great tech.
Owner of Top Gun PDR Training.
Owner of Dent Vanish PDR in Sacramento California
Large and complex dent specialist (LDPDR)
Developer of the PIRP process for PDR.
Beginning and Advanced PDR trainer, and re-trainer with over 14 years of PDR training experience.
Specializing in training techs who have washed out of franchise or other training schools.
Specializing in training techs with minor eye issues or minor disabilities needing specialized of hybrid reflections.
The ONLY trainer that custom makes each reflection to fit the student, NOT one reflection fits all.
Training for many corporate PDR Companies and Franchises worldwide
Winner of the 2005 PDR Mentor of the year award given by MTE (Mobile Tech Expo).
Vale Certified Master PDR Craftsman #10008.
One of 10 technicians asked to beta test the Vale Certification program.
Founding member and current board of advisors member of the NAPDRT (National Alliance of Paintless Dent Repair Technicians).
Inventor / developer of many PDR related tools used in PDR today including the first practical adjustable handle tool, wide angle fog board for fixing deep hail. Multi-pull dozer glue pulling system, numerous speciality reflection boards. and various speciality hand tools.
Consultant and test tech for many quality PDR tool companies.
Consultant and expert witness in cases involving contract disputes with franchises, technicians and PDR companies.
Marketing consultant for many PDR companies worldwide.
42 total years of automotive sheet metal working experience
26 years experience in the auto body industry.
Numerous published tech articles for PDR and auto body related publications, and newsletters including, NPCCRS, MTE.
Specializing in working with techs who have "washed out" or are considered untrainable by large dent companies or franchises due to vision problems
Contributing developer, and curriculum developer of portions of original I-CAR training material.
I-CAR certified
ASE certified for structural and non-structural auto body repair.
Owner of Northridge Coach and Colors body shop in Northridge Calif from 1980-1983.
Please read this ENTIRE site for an honest and realistic look at this trade. There is information on this site that is not available any where else. You will probably be surprised at what you learn, and save yourself a lot of time and many thousands of dollars.
What is the difference between the TopGun method and conventional Paintless Dent Repair?
Conventional PDR: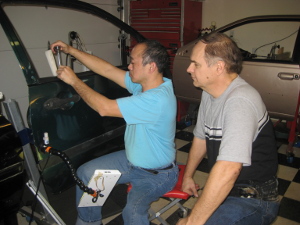 With conventional PDR repair, the main concern is bringing up the dent or crease flat with the panel. This is generally done as fast as possible with fairly inaccurate pushes. Since the main goal is to bring the dent up quickly, being really accurate is usually seen as a waste of time. With conventional Paintless Dent Repair it can often be difficult to see your tool tip, especially in a deep dent or crease, until you make a small tool mark. These tool marks are tapped down once the bulk of the dent is up and the dent is brought up as level as possible to a close finish. The dent is then crossed checked and worked to make it look good from more than one direction of sight. Crown work is generally done later if it is deemed necessary to relieve any pressure that may still be holding the dent in. The reflection source is then moved back farther from the techs eyes and closer to the panel to see any slight low area as compared to the rest of the panel. The tech puts his eyes closer to the panel and the dent is worked to the finished level.
So what is the difference?
The TopGun process is actually a marriage between state-of-the-art Paintless Dent Repair techniques, the PIRP process (pressure identification and release process), and old-school metal working methods. With this process, pressure release is what really matters and the dent comes up almost as a by-product. The dent is not wrestled with but released the way it wants to be. Crown work is often done first instead of last, in a special manner quite different from conventional crown work done in most PDR. Specific pressure holding areas inside and outside the dent are identified and quickly released. All unnecessary pushes are eliminated. Every dent will show you how to release it once you know what to look for. This method shows you how to identify, precisely push, and release pressure from the correct areas of a dent, every time. This process may seem too scientific or "too complex for just dents," but it is actually easy to learn. The deeper and more complex the dent, the more useful this method becomes.
Old school metal working methods are also used extensively in this process. Automotive metal working skills have been lost for decades since the wide spread use of plastic fillers. The TopGun method is unique in that it combines many of these old school metal working skills with advanced Paintless Dent Repair methods. The results are better quality repairs in less time than conventional PDR.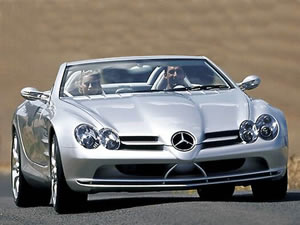 This method also eliminates many things that steal valuable time from a PDR tech. You seldom need to use a tap down to correct bad pushes, because you never have to make a tool mark in a dent to tell you where your tip is, even in most deep dents. The tech will also know exactly when to stop a push so he almost never makes a bad push and gets the most efficiency from each push stroke. Working a dent up and down is also virtually eliminated because you bring up the dent in a smooth flow, instead of an up-and-down fight. After cross-checking you will find that your dent looks great, because you didn't make any cornrows, pressure holding areas, or hidden push marks. Finishing the dent is done with a different reflection board position than conventional PDR. Precise pushes and pushing patterns are then used to quickly bring the dent to a quality finish with no time wasted using many pushes to get the dent flat with the panel. This method also performance-tunes your Paintless Dent Repair technique, helping you to always work at maximum efficiency.
Unlike conventional PDR this process also teaches you to teach yourself. When you come across a dent that is new or complex, you will know how to break it down into a manageable repair sequence. Note: See Advanced training curriculum for more information.
More Articles...