The owner of Top Gun PDR Training is Marty Runik.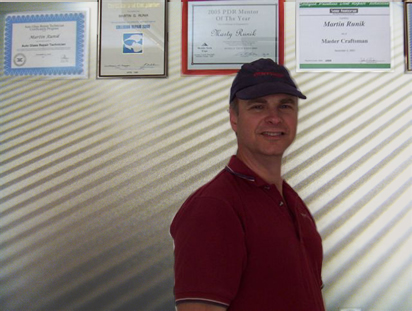 Marty has 47 years of experience working automotive sheet metal. He also has 17 years teaching experience in beginning and advanced Paintless Dent Repair. At Top Gun PDR Training we believe being a great teacher is even more important than being a great tech.
Owner of Top Gun PDR Training.
Owner of Dent Vanish PDR in Sacramento California
Large and complex dent specialist (LDPDR)
Developer of the PIRP process for PDR.
Beginning and Advanced PDR trainer, and re-trainer with over 17 years of PDR training experience.
Specializing in training techs who have washed out of franchise or other training schools.
Specializing in training techs with minor eye issues or minor disabilities needing specialized of hybrid reflections.
The ONLY trainer that custom makes each reflection to fit the student, NOT one reflection fits all.
Training for many corporate PDR Companies and Franchises worldwide
Winner of the 2005 PDR Mentor of the year award given by MTE (Mobile Tech Expo).
Vale Certified Master PDR Craftsman #10008.
One of 10 technicians asked to beta test the first Vale Certification program.
Founding member and current board of advisors member of the NAPDRT (National Alliance of Paintless Dent Repair Technicians).
Inventor / developer of many PDR related tools used in PDR today including the first practical adjustable handle tool, Leverage Easy tool, wide angle fog board for fixing deep hail. Multi-pull dozer glue pulling system, numerous speciality reflection boards. and various speciality hand tools.
Consultant and test tech for many quality PDR tool companies.
Consultant and expert witness in cases involving contract disputes with franchises, technicians and PDR companies.
Marketing consultant for many PDR companies worldwide.
47 total years of automotive sheet metal working experience
29 years experience in the auto body industry.
Numerous published tech articles for PDR and auto body related publications, and newsletters including, NPCCRS, MTE.
Contributing developer, and curriculum developer of portions of original I-CAR training material.
I-CAR certified
ASE certified for structural and non-structural auto body repair.
Owner of Northridge Coach and Colors body shop in Northridge Calif from 1980-1983.