Testimonials from TopGun Paintless Dent Repair Training Schools
---
From: Adam Langridge Gold Coast Australia,
taken with permission from www.doording.com
Hi all,
My Name is Adam..
I am a PDR Tech from Queensland, Aust. I had attended PDR training years ago, but, and its a big BUT... I hadn't received correct training, and more to the point, alot of the formal training I received was sketchy.. Trying to generate and keep a client base with the skills I had been trained in, was painful.. It covered all aspects a PDR tech has to endure..
But it all revolved around not having the knowledge needed to identify what the panel distortion was telling me.
If I couldn't read the dent properly, then I had no chance of starting the repairs correctly. And that is where it all starts and stops really.. There would, more often than not, be no happy ending.. Even if I managed a pass mark for the Job.. I felt a fraud, like I lucked my way into being able to invoice the job. My repair work had no boundaries. I would spend hours on a relatively simple dent, and be left with a mess. The walk of shame when explaining to the owner or the panel shop client managers that the repairs were finished was all fear and dread.
I first trained in 2006, but for the last three years, I have really been investigating and saving $$, determined to get the correct training to help me get to where I believed my potential could take me. Marty Runiks website was remarkable. His frank and brutal honesty spoke volumes, and after my previous training, it was what I wanted.. even if it was confronting. What if, maybe, he considered I shouldn't be pursuing a career as a PDR Tech?
I did, however, make my way over for Marty's Top Gun Training and cannot speak highly enough of the both the training, and more importantly, the Gentleman that he is.
I have come away from my experience with so many gifts. It has changed my life.. The benefits I was afforded through my 2 weeks with Marty will, and is, having a life-changing effect for myself, and my family. Since returning, the belief in my training has rubbed off onto the contracts I work. The training is so different, and achievable of such significant results, that my contract repairers, and Insurers, (witnessing Marty's repair techniques), are expanding the frequency and type of repairs they want me to work on. In turn, my rates have been able to increase.
Marty will change your previous understanding of PDR. Your repair times will be insanely better, and the level of damage you can repair will surprise you, time and time again.
Also, because of Marty, I haven't the need for validation to be the best anymore.. He has a really special touch. I am happier than I ever have been, and no dent ever scares me at all.. it can either be done, or not ( or, I might have a crack to see what I can do :blink:). Having the boundaries to work within has helped. Aluminium repairs using Marty's repair methods have had the most dramatic effect.. Both for me, and on others. My local Repairers and even regional Insurance assessors are changing their own pre-conceived notions of what is PDR'able?! "Have a go at this Aluminium Bonnet I've sent over for you Ad, and just see what you can do with it?!"... The income opportunity is valuable, and the amount of work, currently, is really very good.. To attend Marty's training is not a risk, but an investment for your entire family. I hope this helps someone with their future in PDR.
And even though my post focusses on the effects of Marty's training, I would be only too happy to further explain the procedural advantages I gained for anyone who wishes..
Cheers,
Adam.
---
From: Steve Breslau - Prestige PDR,
South Plainfield, NJ
Marty is hands down the best guy in the industry to learn PDR from. Marty is a true master of the craft. His methods of explaining theory, and applying these techniques with today's new tools, is the best and fastest way to learn effective PDR techniques. He shows you the easiest & best way to fix dents fast & build good habits from the start. He breaks down everything in great detail so you can easily grasp the methods being applied. Don't get me wrong, PDR is not easy and wasting money not being trained by the right person can be costly. In fact, that's what happened to me. I was burned by a trainer that didn't teach me ANYTHING. No real theory, how to really read the light, how metal really works, etc. They just had me do drills and would blow smoke up our a** about how much money we would make. With Marty, I learned more in the first few hours with him than that previous week long class I blew thousands on. I can confidently say that if you get trained by Marty, after your class is over you will 100% be able to go home and start getting paid to fix dents immediately.
---
From: Teds Dentworks
Pleasanton California
This guy knows what he is doing. Sent my son there for two weeks. Great investment!
---
Marc Hunt
March 21, 2005
Dear Marty,
I want to write this letter to let you know how much I enjoyed coming out to Sacramento and doing some advanced dent repair training. Even after eight years of doing PDR I was truly amazed at the techniques and advanced metal working you presented in your training curriculum. I never thought there was a way to work severly damaged metal to an acceptable outcome without compromising the paint but you definitely proved me wrong. I also believe your teaching background helped out tremendously when I would get frustrated because you knew which buttons to push to get me back in a positive frame of mind. If you ever need a reference, or if a prospective student wants questions answered, please do not hesitate to have them call me.
Sincerely,
Marc Hunt
---
Marc Hunt
I totally agree with your post. I've always tried to keep an open mind on certain teaching techniques because I feel most people have something to contribute whether they are a 1 year tech or 10 year tech or "newbie". I recently had the opportunity to see this technique first hand with Marty and must say I am truly impressed!!!!! In my opinion this new teaching methodology will not only drastically shorten the learning curve for new techs it will also greatly improve the skills of an open minded "experienced tech". I hope my post will help those experienced techs that might be on the fence about advanced training to go ahead and take the plunge. Just make sure you are ready to try and change some bad habits!!!!!
---
Larry Harvey
I have trained with many teachers and technicians from across the nation over the years. Of them all, Marty Runik has displayed the broadest spectrum of technical, business, and innovative concepts of any one person. He possesses so much more than top notch PDR skills. His business mind and ways of thinking out of the box to improve one's overall probability of succeeding in the industry is second to none. His ability to instill knowledge in the mind of a student seems to come natural to him. Marty is a real pleasure to work with, and someone you can count on to be there for you when you need him. He goes the extra mile in so many ways. He cares not only about his students, but in the industry as a whole, and in people in general. When it comes to fixing dents, the man is a virtual Houdini. As much as I am willing to help the next guy out too, along the line, some of the skills Marty taught me I still consider top secret, and don't share with anyone. Every now and then I pull a rabbit out of my hat while working in my business, and one up the other guy , and say a silent, "Thank you Marty."
Wayne "Larry" Harvey
My DENT Guy
Weymouth, MA
---
John Worne Alberta Canada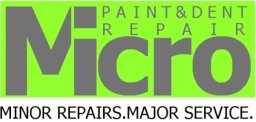 My name is John Worne im from Alberta Canada and I had the opportunity to attend the two week PDR training offered by Marty in the month of May 2008.I am a Co-owner of Micro Paint And Dent Repair Ltd and the Training provided to me has greatly enhanced our service and Business.
Marty Provided me with a very strong based knowledge and understanding of PDR techniques and skills.He was Very paitent and went the extra mile to make me see and understand what I was doing.He certianly has a unique way of teaching that works very well.
If you are serious about becoming a PDR tech and you want to learn the proper way I would Highly recommend Marty Runik.
Thanks Again Marty.
On behalf of all of us here at Micro Paint And Dent Repair LTD.
---
Scott H. username on doording.com
Used with Permission from www.doording,com
Daniel if you do decide to get training the right way I can tell you from my own experience that you can't go wrong with Marty with Top Gun PDR training. He can prepare you for what you will be facing when trying to make a living in this industry and in my opinion offers the best training out there. He is extremely organized and once you grasp a needed skill he will move you on to the next so you don't waste time while you are there with him. He knows more about sheet metal and PDR than most on this site care to know. I repaired a large body line dent to retail quality on my rental car before I left and you will be able train yourself after you get home. While this training is awesome I still want to stress my honest opinion of the hard road it will still be. It takes a special person I feel to stick it out and strive for perfection with all types of damage. I still refer to my notes that I took while training with Marty, and I truly appreciate the seriousness he showed in teaching me how to make a living in this trade. He won't tell you what you want to here, or blow smoke, he will tell you to research your area and be realistic in your endeavor. I still feel being an apprentice under a veteran after training could speed you to success though. What really taught me the most though was working hail for several years and the knowledge I got from Marty really prepared me to do this. I just feel that too many guys think it is easy to learn and succeed with and sometimes the video trainers are not realistic because they want to sell their videos. There are guys working in my area that still cannot repair simple dents to perfection and are trapped just scraping a living in the wholesale market which is getting worse. Get the right training the first time and practice like your life depended on it and network with veteran techs and you will be on the right road. I can tell you that Marty saved me years of frustration because of the tips and tricks and secrets he let me know that some techs still don't know. With aluminum becoming more of a trend I am confident because I was trained on aluminum and I know the ins and outs of it partly because of Marty. He told me this would happen years ago and prepares his students for it. I was in your spot once and just want to give you good advice if you are serious about it. I hope things go well for you in this venture and will say that Door Ding is the right place to be to get good advice.
---
Ted Ausbun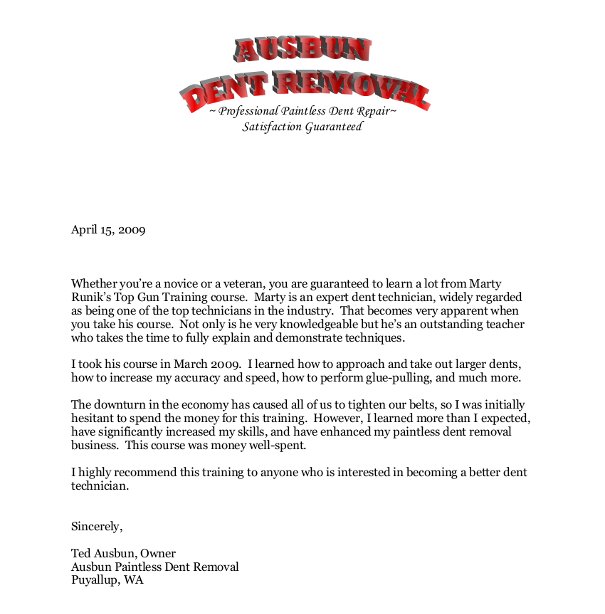 April 15, 2009 Whether you're a novice or a veteran, you are guaranteed to learn a lot from Marty Runik's Top Gun Training course. Marty is an expert dent technician, widely regarded as being one of the top technicians in the industry. That becomes very apparent when you take his course. Not only is he very knowledgeable but he's an outstanding teacher who takes the time to fully explain and demonstrate techniques.
I took his course in March 2009. I learned how to approach and take out larger dents, how to increase my accuracy and speed, how to perform glue-pulling, and much more.
The downturn in the economy has caused all of us to tighten our belts, so I was initially hesitant to spend the money for this training. However, I learned more than I expected, have significantly increased my skills, and have enhanced my paintless dent removal business. This course was money well-spent.
I highly recommend this training to anyone who is interested in becoming a better dent technician.
Sincerely,
Ted Ausbun, Owner 
Ausbun Paintless Dent Removal 
Puyallup, WA
---
Daniel Kopeck Saskatchewan Canada
Taken from doording.com post 2/15/2014
Just want to send a quick thanks to Marty at Topgun.  Finished my training with him this week.  Money very well spent, I learned a lot!  It would have taken me a long time maybe never to learn the techniques i was shown in the last couple of weeks.  He has a very good way of explaining things to newbies.  I would highly recommend his training to anyone interested in becoming a pdr tech.
---
 Bryan Suter
My background is in auto body and painting and I also spent nearly five years as a multi-line adjuster. I have spent my entire working career making money for other people and it was finally time to go out on my own. My wife and I attempted to purchase a body shop but thankfully that fell through because I really did not want to deal with the overhead or the headaches involved in the industry. I have always been interested in paintless dent repair so I started doing some research on pdr schools and I stumbled across Marty's site for Top Gun PDR Training. It was so refreshing to not have smoke blown up my butt like all of the other schools that promised I would be making truckloads of money after a week of training. I knew better after spending nearly 20 years in the industry.
Well, I called Marty and when I talked to him I knew he was the only person I wanted to train with for this new career. I scheduled my training for December 2008. On a side note, It really is a small world because Marty lives less than a mile from the house that I grew up in. He was amazed when I told him that not only had I heard of Cameron Park, CA but it is where I spent second through ninth grade.
Marty's training techniques are awesome and he has a way of understanding quickly what you need as a student. After just a few hours of training I knew I had made the right choice. Marty also encouraged me that day so much that it brought me to tears. You see, I had put all of my eggs in the PDR basket. The only way to train for two weeks straight for me was to give notice to my boss that I would be leaving and starting a PDR business. My wife is a stay at home mom and I have 2 young children. I'll never forget when Marty looked at me and said, "Bryan, you are going to be really successful at this!" It was such a relief for me that I was overwhelmed to tears.
I can tell you that because of the training I received from Marty I was in business and making enough money to support my family after 5 weeks of training at home. The freedom that my family and I have now is amazing and I would recommend Marty and Top Gun PDR training to anyone that is considering a career or struggling in their current skills with Paintless dent repair.
Bryan Suter
Owner, Envirodent 
Prescott Valley, AZ
---
Taken with permission from www.doording.com:
Doug Timme
Every year I try to set aside time to advance my skills. This year I spent some time with Marty Runik. I am a man of few words, so WOW!
I am not sure where to start, it was an eye opening experience. He showed me things I had looked at but never SAW. If that makes any sense. No hype, no bull, Marty is the real deal. I am grateful to have him in our industry, most of us are so busy pushing we dont step back and ask questions like how or why? I think Marty has been doing that since day one, and it shows.
For anyone interested in learning, or advancing their skills in paintless dent repair. I would highly reccomend Marty Runik. Marty not only has the PDR skills to pass on, he also has the ability to communicate those skills to the student, in a way the student can relate to. Marty really gets in the students head, to make sure they understand the process
Thanks again for everything Marty!
Doug Timme
P.S. I think I found my ego!
---
Tim Vannostran
The Dent Gent Akron Ohio
Taken with permission from from www.doording.com
I posted a question here on Doording asking why I was having trouble. I received many responses which I greatly appreciated but the MOST helpful of all came from Marty Runik. I didn't even tell him about all of my symptoms when he started asking if my head hurt, if i was sick to my stomach, dizzy ect. ect. I quickly replied yes yes and yes. He gave me tips to make it stop and even took the time to talk to me for almost an hour over the phone. I stopped practicing on my own immediately after finding out that everything I had "learned" was wrong and quite possibly could damage my eyes.
I asked Marty what he thought i should do at which point he didn't try to shamelessly push his training program but rather was more interested in IF i could actually learn the trade. He also warned me to check out my market area and not to jump blindly into this business without really knowing all there is to know about the pitfalls.
Marty didn't even say anything about his own ability to train, only remarking to do my research and pick the right trainer for me.
I was sincerely impressed by his level of honesty but still skidish because of the shady companies i encountered time after time after time. I asked questions about Marty's company from many different people right here on Doording.com and also asked, "well, who else is good".
I received several different answers and I have no doubt there are great trainers other than Marty but I was so impressed by his honesty and no B.S. attitude that after i checked his story out and spoke with prior students I decided to go train with Top Gun PDR training. I wrote down things that i figured i would have to drill him on to get my questions answered before i got there. I arrived at 8am on Monday and was walked into Marty's den, sat down and had a casual conversation. Right there i figured OH BOY i'm going to have to push this guy the whole time. My wife has told me to be nicer to people and not immediately become an A** *ole just because i think something is going a certain way.
I took a deep breath and relaxed as we went into the garage to start. I was kind of surprised because his gentle demeanor made it seem like he would move slowly in the teaching process, BOY WAS I WRONG!
Marty was on me like white on rice. It wasn't that he was aggressive or barking orders because his laid back demeanor never changed, he just was very driven about doing what needed to be done.
We joked and laughed all the while he never let up once when it came to the training. I was surprised by what i was seeing but on the first day i got a little ahead of myself and stealthily jotted notes i was going to grill him on the next day.
I came in fresh the next morning just itching to grill him on the points i wanted addressed. Before i could even get the words out of my mouth he was addressing things without the question being asked. I felt like i got kicked in the chops by my own hastiness .
Every time i had a question it wasn't half a day before Marty was addressing it without the question being asked. I'm thinking, "DAMN HOW IS HE DOING THAT!" I was getting frustrated with the lack of conflict, I so desperately wanted to bust his chops on at least one or two things.
As the days progressed still nothing. Every question I had was being answered without it being asked and then some.
As a person who is rarely pleasantly surprised and very cynical I have to say Marty was impressing the Hell out of me!
I got frustrated with myself as im sure everyone does and there were times i had to just grunt at my own inability to instantly pick something up. Marty would just laugh and say, "DUDE! your doing just fine don't be so hard on yourself"
By the end of my training I really felt as if i could go home with the knowledge i learned and begin diligently practicing.
Marty really shocked me not just in his teaching ability but with his character which is extremely rare these days. He is a family man who's morality and ethics are rarely seen these days. His business skills are very sharp which is what you need as a business owner, and lets face it you could be the absoulute best tech in the entire country but without business skills how are you to make a living. Marty teaches "outside of the box thinking" that will put trainees miles ahead of the competition.
I can happily say now that i'm home and have had the chance to practice on my own I don't feel as if i'm clumbsily reaching out in the dark while practicing. I look at what im doing and when i have a problem i know exactly what im doing wrong thanks to my notes. I was really stressed when i got home with things that had piled up in my absense. I called Marty for support which i really didn't need and could tell he was extremely busy but he took the time to talk to me anyway.
I got off the phone with him and took the time to calm down and think. Later that evening I totally forgot about sending Marty pictures of my light. He called my and patiently and genuinely wanted to know how i was doing and to figure out my problem. There was no real problem other than family issues from being gone for several weeks and once i calmed down i was surprised at what stuck with me from the training.
If your lost in trying to make a decision about training or if this trade is right for you, go back to the basics. Don't settle for having smoke blown up your rear and beware of companies who tell you what you want to hear.
If you're where i was several years ago and finding this post i hope it helped shed some light on training mills and where to look for proper training.
Oh yeah, for anyone who is a skeptic or who doesn't know anything about the Brain Gym method - I'm a believer, it works!
If you're brand new to Doording stick around a while you'll never find a group of nicer guys and gals. If you read something you don't agree with then challenge it in your own mind and don't settle for taking it at face value. Be an independent thinker and learn as much as you can from anyone who is willing to share and when the time comes when you know something someone else doesn't remember where you started and lend a helping hand.
So in closing I just want to say from a guy who hates everyone, is always disappointed, and never has a good time.....
Marty Runik/ Topgun PDR is a damn fine Trainer and is a wonderful human being.
---
From David Medsker owner of Recon Partners Las Vegas Nevada
Hello again Marty. Well it's been a month since Nathan Perry returned to us from your training. Even though he had two years experience at the auction pushing dents, his improvement was immediate upon his return. Your training and tool recommendations, teaching him the fog method and the exercises you gave him to do were way worth the investment we made with you. His target is $300 per hour billing and he's already hitting over $100, and he's improving every week. He did a $200 bedside over the weekend with multiple body lines and contours and it's beautiful.
Thank you.
Best wishes,
David
---
Taken with permission from www.doording.com:
Shane Mayfield Crescent City California
Hey everyone,
I was just sitting here typing up my notes from the PDR course(because i cant read my own writing) I recently took with Marty Runik of Topgun. I just wanted to give marty some more kudos for the training i recieved. Marty was a great teacher and an even better listener, when i would describe to him what i was seeing he would not move on until he understood exactly what I meant. He also was very meticulous with my every movement, if it wasn't right he would point it right out to me and show me the right way. the notes and information he gave me are invaluable in learning this trade. Marty himself I'm sure is invaluable to this trade he is a true craftsman of paintless dent repair and believes in doing proper repairs not just speeding through them as fast ad he can. I would recommend Marty Runik to anyone looking for training. �'m glad i did my homework. Thanks to everyone who gave me advice!!!!
---
Fred Lucci
In May 2005 I received Training from Top Gun PDR TrainingT. Previous to this training I spent many thousands of dollars at a "Training Mill" and over $1800 on Tools which were Chinese Knock Offs.
The first few days of Training with Marty Runik was spent unteaching me bad habits I picked up at my previous trainers. Let me just say, there were many "Aha's, and Oh boys" said that week. The balance of the week was set preparing me for a life of learning PDR techniques. A big portion of the week was writing down tips and tricks and techniques that I would need to be reminded of down the road. I've referred to my notebook many times in the last year and still smile thinking about Marty trying to cram his vast knowledge into my pitiful little brain.
Speaking of knowledge. Marty is absolutely incredible when it comes to metal and it's principle with respect to PDR. His many years of experimenting and practicing are evident in his theory class he provides.
I also like Marty's honesty. He can teach you, but you must be willing to practice. Then and only then the lessons provided will pay off big time. He tells you this before you come to his shop or exchange any monies. Other schools are less than truthful and tell you, one week will cut and you'll be earning six figures. Marty was honest with me and said, if you listen, practice and persevere you can earn a decent living doing PDR.
Frederick Lucci
Prime Automotives Reconditioning
Salem , CT
---
David Kasten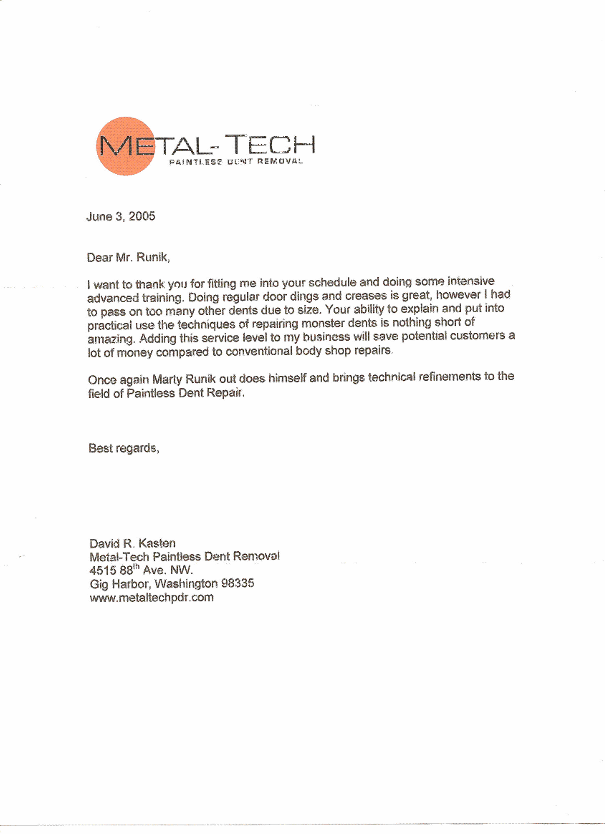 October 5 2003
Dear Mr.Runik,
I want to extend my thanks to you for the opportunity to train with you. After doing PDR for a year without any advanced guidance I found your training refresher coarse to be instrumental in taking both my confidence and my skill level to where it needed to be. Your ability to correct bad habits is amazing to me. Also the way you do it is both fast and painless.
Being a family business I strive to treat every customer as my first customer. I know that with the training I received from you I can deliver the best PDR service in my area of the country. My customers get the best because they expect topnotch service with a near perfect outcome. With your training under my belt I can deliver just that.
Best regards,
David R. Kasten
Metal-Tech Paintless Dent Removal 4515 88th Ave. NW .
Gig Harbor , Washington 98335 www.metaltechpdr.com
---
Dave Kasten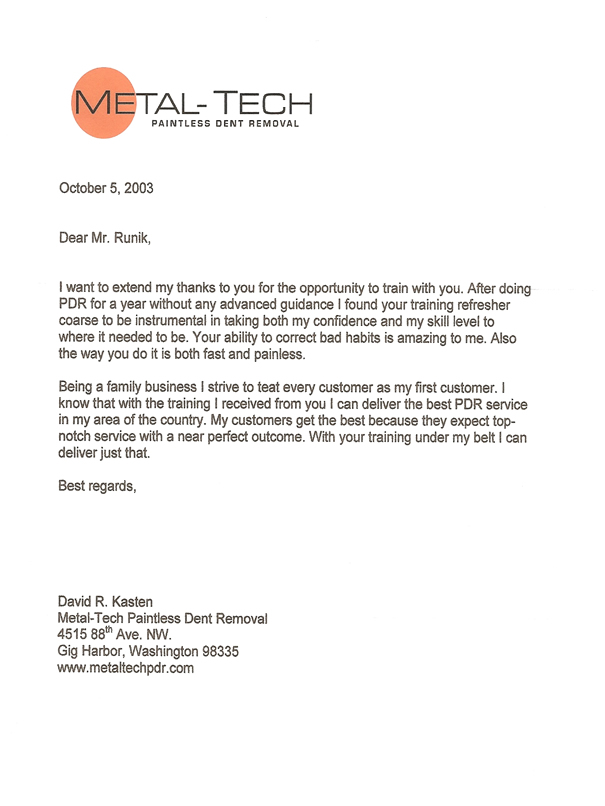 June 3, 2005
I want to thank you for fitting me into your schedule and doing some intensive advanced training. Doing regular door dings and creases is great, however I had to pass on too many other dents due to size. Your ability to explain and put into practical use the techniques of repairing monster dents is nothing short of amazing. Adding this service level to my business will save potential customers a lot of money compared to conventional body shop repairs.
Once again Marty Runik out does himself and brings technical refinements to thefield of Paintless Dent Repair.
Best regards,
David Kasten
Metal-Tech Paintless Dent Removal
4515 88th Ave. NW .
Gig Harbor , Washington 98335
www.metaltechpdr.com
---
Taken with permission from www.doording.com:
Bret Pinkerton
If anyone deserves a stellar testimonial, it's Marty, and it's the least I can do for all that he has done for me and my career. Marty teaches you the right techniques to be a success in this industry. The mill schools--which I have also attended--teach you the bare minimum, and the likelihood that you will succeed is slim to none. I have a great respect for Marty as a person, and as a straight shooting-business man. He will go out of his way to help you in any way that he can. If you need phone support, help with tools, help with access questions, he will always answer his phone and will get you through any emergency situtation. After training with Marty, I was able to go full time into PDR and I haven't looked back. One on one training was a difficult financial commitment to make--especially after spending money on the mill schools--but it's a commitment I am glad I made. The key to success in this industry is proper training...Top Gun...nuff said.
Bret Pinkerton
Arroyo Grande Calif
---
---
Eddie Robinson
If anyone is serious about making a career in paintless dent repair and wants to save themselves a lot of time and frustration on learning this process do yourself a favor and give Marty a call and get properly trained the first time! His training is second to none, and he is without a doubt the finest teacher I have ever come across. I only wish I had gone to him years ago!
Eddie Robinson,
Got Dings? L.L.C.
Oklahoma City
---
Taken with permission from www.doording.com:
John Bentley
I recently received two weeks of pdr training from marty, the training was excellent, he taught me and my business partner everything we needed to know to go home and practice all the skills we learned from him, anyone looking for pdr training i would definately recommend marty, he knows his stuff, i would also like to thank keith and everyone else that talked us out of going to a training mill, this was definately money well spent, i cant wait till we are up and going, thanks marty i really appreciate everything, we had an excellent time, we'll probably be back for some advanced training before vale.
---
Taken with permission from www.doording.com:
James Miller
I'm Bentleys business partner and I wanted to thank Marty for the great training and Keith for the talk when I started having major eye strain. I also want to thank the other people that said find a tech when we were looking for training. Thanks again.
---
Taken with permission from www.doording.com:
Dave Coit
I have to comment again on this subject. I myself was trained in the type of school you guys are talking about. You have no idea how frustrating it is to see guys doing all these big and wanting to do a good job myself. I do mostly windshield repair and do a fantastic job but when it comes to dents I don't have the confidence to do it right, that is until I met Marty and spent a day with him. Now I am still nowhere near where I want to be but now I understand a lot of the problems I was having. For one I found out that the tools I use make a very big difference in how I do the dents. Most of my tools were made from very week metal and very very long at the ends so I was pushing way to hard from what I was supposed to be pushing. I realize I still need a lot more training, and sure wish this forum had been around when I got started otherwise I wouldn't of waisted $14,000 dollars. Oh well one of the lessions in life that you learn.
I will say this since finding this forum I have learned 10 times the amount of dent theory then I learned from a supposedly skilled teacher. If you are reading this forum and havn't learned the trade yet, please do yourself a favor and don't go to one of the schools. Find yourself a teacher who really cares about how their students preform and will teach you the right way. Of course I am partial to Marty myself. I think he is the best and can't tell you all how much I appriciate the advice he shared with me.
Well I want to comment on this. I personaly was trained at XXXX XXXX and spent 6 weeks there. I was extreamly dissapointed and felt very riped off. I was in a class of like 7 people. The instructor didn't really care about our training. I just set a hood up and told us to start pushing. We spent the next week working on that while the teacher sat at his conferance table reading the newspaper for the week. Our schedule was supposed to be pushing dents from 8 AM to 5 PM , however he pushed us out of the class by 2 PM every day. The owner of the company XXXX decided to come out and learn to push dents too, he spent about 1 day trying to learn and gave up. When I got out of the school and tryed to go around and get on a hail team no one would let me work for them. When I was asked who my instructor was and I told them I was told that he wasn't a very good tech himself and that I should ask for my money back. 95% of people that go to those schools quit inside of a year. I have learned 10 times more reading this site then I ever learned in that school. I was given lots of bad habits and was taught nothing about crown work or how to push dents right.
Let me add one more thing. I was fortunate enought to get to Drive to Sacramento and work with Marty from our forum here and get some basic dent advice from him. Marty spent a day with me helping me out. As we worked through the day, Marty didn't take any time off to go do anything else. He sat looking over my shoulder the whole day making sure what he was teaching I was learning. When he was done showing me something, he would ask me if I understood or if I felt comfertable doing it. Sometimes I would say kinda, and he would stop me cold and say "lets work on that thing until you do". I must say this was a 180 degree turn around from what I was used too. This was absolutly the best thing that could of happened to me for training. I am amazed because I think Marty had the patience for a saint. It seams that I had developed many bad habbits over the last few years. He helped me break some of them and I am still working on others.
In closing I would like to just say that if you are trying to chose between going to an official school or learning from an indavidual I would highly recommend learning from an indavidual. Especial one like Marty. Marty didn't have to spend a day with me, he could of told me to go climb a tree or take a long walk off a short pier but he didn't. He saw a person struggling and reached out his hand to help me. I highly recommend that if you are looking to get training to go to a person. Those schools are very horrible, and all they care about is lining their pocket books and they don't care at all about what you do after they get your money.
Anyway thats my two cents.
David Coit
---
Taken with permission from www.doording.com:
Jamie K. Connecticut
Just spent some time with Marty @ Top Gun. Had an awesome time, he was a great & super knowledgeable instructor. Truthfully, I never realized how intricate this trade was until I was fortunate enough to train with him. Just some quick info for anyone searching for quality training, you will definitely not be disappointed with spending time @ Top Gun. A while back, being from the east coast I went to XXX Training out in Jersey. The best way for me to describe that experience was, basically like opening up my wallet & someone kicked me in my nuts..!! Just so you already established techs get an idea of what that was like @ XXX, they only used a 4 ft shop light, which If I remember correctly they called hardline technique, or something like that..? They refused to use any other kind of reflection, especially fog boards, four people to a class, on hoods only. Whale tails were a big hell no because they were to sharp, yada, yada, yada..?? Oh yeah, the last day it was raining, so they never took us outside to show us vehicle access, and when the guys lead tech came in to visit the class even he told me he used a fog board, so there you go, did I mention as a bonus they gave us golf tees for tap downs..?? Anyway, because now I experienced proper training with Marty, which I should of done a long time ago, my advice is, if you're seeking correct training, like I said, you won't go wrong with Marty @ Top Gun, but please beware of the training mills, therefore you won't waste your money making a mistake like me the first time, & I'm quite sure alot of other guys did..!! Go to Top Gun, it's well worth it....!!!!!!!!!!!! Thanks Marty....!!!!!
---
Taken with permission from www.doording.com:
RICK SPOOR  Lansing Michigan
I trained with a company a long time ago. But... I went and spent some time with Marty at Top Gun and couldn't believe how knowledgeable he is! After 18 years, I found that I still had plenty to learn. Marty is truly a master in the art of PDR. I can't speak for any of the other trainers mentioned here because I don't know them, but I can tell you that you will not be disappointed if you go to Top Gun. 
_____________________________________________________________________________________________________________ 
Taken with permission from www.doording.com 
Kirk Smythe Huntingdon Quebec Canada 
x2
I loved his no nonsense approach. When I arrived at Marty's the first thing he said to me was " Are you ready to work" and within 2 minutes I was on a hood trying to find my tip. I knew right off the bat I had made the right choice. There is no fanfare at Marty's, it's just you and him in his garage for 2 weeks of one on one training.
It's a hard decision to find good training when you know nothing about the industry, I searched around for months looking for information and was lucky enough to find this site which led me to Top Gun. Costs a lot to get good training so do your homework read all you can and stay away from the mills. Can't really comment on the other trainers mentioned above but I don't recall reading anything other than positive reviews from their trainee's . I just know one thing, Marty was the perfect fit for me. 
 Taken with permission from doording.com:
Brent Allen
I would like to introduce myself to the forum. My name is Brent Allen, and this is my first post. I have been doing PDR for almost three years. For some time I have been reading the posts on here and have learned alot from the process. I would like to express my thanks and gratitude to the veterans willing to share the years of knowledge they have with guys like me. The information available via the posts is invaluable to me and I am sure to many others. PDR is a tough trade to learn and without the veterans to share knowledge, the failure rate would likely be higher.
I completed my initial training about three years ago and have over time struggled to advance my skills. I just recently returned from a one week advanced training with Marty Runik at TopGun. I am forty-three years old and this was the first time in my life that I spent a fair amount of money on something and got way more than what I expected in return. It has been one week since my return from training and already my speed and accuracy have improved. These two things equal money. Honestly, my expectations were very high and Marty over-delivered. Being skilled at PDR, or anything else, does not mean that you can convey that information to another. Marty is the kind of guy that could teach about anything he set his mind to because he has a natural ability to teach in a thorough, organized manner. To you sir I owe a lot. For those of you needing advanced or retraining, or for those wanting to get started, you need to give Marty great consideration. I am a big believer in not reinventing the wheel, so when the veterans have something to say about the methods of PDR, I listen. Thanks so much guys.
---
Taken with permission from doording.com:
Rob Dandar - Toledo, Ohio
Time and money. It seems I can never get the two to come together. But, just before Christmas it happened. After a year and a half of talking about it, I was finally able to spend a week with Marty at Top Gun.
Talking with Marty on the phone about training you'll find that as well as answering your questions, he's screening you as a potential student. "Have you checked your market? Do you intend to do wholesale or retail? Mobile or a fixed shop?" Like his website, he's very realistic with the potential for you to earn living fixing dents. There's no smoke being blown here. He is very upfront about the learning curve, dedication, and physical requirements to do PDR. If you're lacking in any of these areas, I have no doubt that he would tell you right then.
Top Gun isn't a shop as you'd expect. Marty works out of his garage, on a dead end street, in a nice California neighborhood. This is not a bad thing. Matter of fact, IMHO if you intend to do retail in the Midwest this would be the perfect setup when the weather turns cold. The tools are organized and plentiful. The work area is neat and clean. Certificates and awards are displayed on the wall. It's really a perfect setup for a one man operation or one on one training.
Since I was only able to train for a week, the curriculum was condensed to fit my schedule. We covered dents, hi spots and creases. Tool selection, fog board use, and heat were gone over. He said I was doing well, so we went on to glue pulling and fixing dents in aluminum. We went over a lot. The pace was fast to say the least. Other than an hour lunch, there weren't any breaks. Sure, there were jokes and stories exchanged but they were discussed while I was pushing dents. No time was wasted. I think he was determined that I would learn as much as possible in that weeks time. Marty was a relentless slave driver. At the end of each day I was exhausted. I would return to my motel room, take a shower then get a bite to eat. I was asleep no later than 9pm each night. I never thought pushing dents would be that tiring.
In the end, did I get my moneys worth? For my situation, I would have to say "Yes". I went there with a modicum of PDR experience. Along with the skills learned that week, it gave me the knowledge that I do have the ability to do PDR to retail quality with more practice. While Marty believes I could "go live" with a few months of practice, I still lack the confidence to do so. As anyone who's ever worked with me will tell you, I'm very hard on myself as far as the quality of my work goes. Before I start working, I would like to return for a second week. That has nothing to do with the training I received. It's more for my own piece of mind. Call me neurotic.
I would like to offer up some advice to anyone that is seeking training. I suppose this would pertain to any new tech regardless of where he trains.
Don't forget you'll need money for tools! I had $1000 set aside for tools. I retuned home to find the washer had given up the ghost. That set me back a month as far as being able to practice goes. Luckily I had some picks I would collected over the years so it wasn't a total loss. If you're on a shoestring budget wait until you can afford tools. Otherwise it's a waste of time!
Do you have time to practice? When Marty asked how much time I can dedicate to practice he winced when I told him two hours a day. Having a full time job and other commitments during the day I've found out I have even less. Heck, some days I don't even have time to push one dent. Your initial training won't make you a PDR tech. It will teach you what you need to practice to become a PDR tech. Finding the time to practice is harder than you think.
Take notes! Whenever we moved on to a new topic, Marty would give a little lecture first. I would write down what he said and copied the diagrams that were drawn. Looking back on them now I have to ask myself what the hell I wrote! What made perfect sense at that time is now a hastily scribble mess in my notebook. I've deciphered and transposed most of my notes, but I would have saved myself some time and a headache if I would have written it all out in clear detail the first time. Even if your instructor doesn't tell you "this is important, write it down" have your notebook ready and take some notes anyway. When you get home your notebook will be your first point of reference when you practice. There's no such thing as to many notes!
---
Taken with permission from .doording.com:
Larry Price - Martinsburg, W. Virginia
I'm not quite sure what to say about Marty at top gun that hasn't been said before. I know alot of people think 2 weeks training is not enough. If you go to Top Gun it will be. No, you won't be a PDR tech when you leave, but you will know exactly how to practice to become one.
My 2 weeks--as soon as I was able to grasp what Marty was teaching, he would move on to something else. If it took 5 minutes or 2 hours, as soon as I got what he was trying to show me, he moved on. He knew when I understood something and when I didn't. All the time it seemed he was pushing to cram as much info as possibe as long as I could absorb it. I think this is the key to learning so much in just 2 weeks. Why do things over and over practicing (something you can do at home much cheaper) when you can be learning something new?
If you go to top gun for training, your not just getting Marty's teaching/PDR knowledge, your getting knowledge from many people that Marty has worked with. It seems he has taken the best methods from techs he has worked with and come up with a no-bs method of PDR.
There's plenty of info about top gun around here, so I don't know if I'm saying anything new.
Now I just need to start my perfect practicing.
---
Taken with permission from doording.com:
Tan Huynh - Vancouver  Canada
Hello every one, today I would like to post this for all newbie or who want to get knowlege about what we should do for training, by the way this is only MY OWN OPION I DO NOT SELL or try to do any thing to hurt another great trainers out there please understand this post i put up for newbie who look for training thank you guys! Here we go: I have been train by Marty Runik the last 8 days 2 more days i kind of finish 2 week beginning PDR training, like all of your guys research and make up decision looking for a good start in this new trade i think i did an excelent desicion to go to topgun, holy man ...Marty knowlege is way out of this box, all i try to say is if you want to learn how to push dents you can go any train mill to learn that but if you want to understand then push LOL then you should go to one on one training ,i knew alot of great guy out there but in MY OWN OPION again i said MY OWN OPION Marty is the trainer yourguys should talk to first PLEASE do not think wrong, TOM PRICE,Eddie, MIKE, Terry ....and alot of great trainer here is very good too i wish i can go and get train with all of them, i want to learn more that is all,and guys PLEASE when newbie come to this forum give them CLEAR dirrection ,just like me you come from the dark you can not see a good dirrection then you ask for help ,then toooooo many help is good but it make them wandering where is the good dirrection to go?????some time mabe the best is THEY HAVE TO MAKE THEIR OWN decision IMO ! Allow me to use this forum to say THANK YOU Marty! it was the fun 2 week i have and learn new trade ,thank you every one who guide me the good dirrection . If you want to know how is training i get ,please feel free to PM with me ,i will answer all question as my best knowlege ,Sorry for my english not that good! good day guys
---
Taken with permission from door ding.com
Greg Freisen  Manitoba  Canada
Hi everyone. Just wanted to do a quick introduction. I have been in the auto body trade for over thirty years, owned my own body shop for over twenty of those years. I have done mainly collision work but also a lot of street rod and restoration work. I have taken several metal shaping courses and have a well equipped shop. I have loved cars and working on cars for as long as I can remember. 
In the last ten years or so, I have really seen the advantages of PDR and wanted to learn the art of PDR, however, with running a busy shop and being self employed, taking time to learn it was always on the back burner. This summer I finally thought I better stop thinking about and do something about learning PDR, so I started searching the web. That search brought me to this site and helped me decide where to go for training.(thanks to all who contribute to this site). I called Marty at Top Gun and after talking to him a couple of times, booked my PDR training!
I just finished my training last Friday. I had no idea what to expect when I got to Marty's place but I found out quickly that I had picked the right place to train. I feel Marty went above and beyond what I had expected to learn in two weeks. I can now see myself successfully repairing damage with PDR that I would never have thought possible (with some practice of course), before I took this course. I look forward to getting to work and putting my new skills to use. I plan to sign up for the PPV section on here and will probably have some questions in the future. (Maybe that was more than a quick intro?) Thanks again for the info on this site, Greg 
_______________________________________________________________________________________________________________
Taken with permission from www.doording.com:
Maria Carassco - Virginia
I recently spent two weeks training with Marty Runik and I want to share my experience with anyone who may be considering going to Topgun.
First, it is important to know that I had no previous experience working with cars or metal whatsoever. Once I decided to learn PDR, finding the right training seemed pretty overwhelming. I researched and snooped the forums for other people's experiences. I figured out pretty fast that I was NOT going to one of the mills. They all seemed downright sleazy to me. Marty's website was the most comprehensive that I had seen, and I decided to contact him even though he he was some 3000 miles away. I could tell over the phone that he was not just a salesman. He was evaluating me as much as I was evaluating him. He offered to recommend other trainers if I decided not to come to him. I realized after talking to Marty that although I could probably find a decent trainer closer to where I live, I probably would not find a better one. So I went ahead and took the leap.
The training:
On the first day, I sat down with Marty and he asked me again if I had any experience pushing dents. When I told him no, he was very happy that I would not have any bad habits that would need correcting. It is important to understand that Marty's passsion is not only dent repair, but also TEACHING this skill to others. As the days passed, even though I was progressing very well, I kept waiting for this man to get impatient with me (never happened). Can you imagine watching somebody trying to fix a little dent for hours? Marty must have Valium running through his veins.
Marty does not just throw out some pre-assembled lesson plan, he evaluates every detail of how you are learning and tailors the training to you. He will not blow sunshine either; He makes sure you are getting it every step of the way. He will also give you everything you need to train yourself further after you leave. He is focused on your success even when you may lose sight of it.
Brain Gym:
Just go with blind faith on this one. I don't know all the science behind it, but Marty does and knows how it can help you learn. I can atest that PDR training was ALOT more taxing on my brain than I had ever imagined. I was mentally exhausted by the end of each day. These excercises are designed to allow your brain to absorb new information, so just go with it.
What did I leave with?:
Basic skills and knowledge of how to perfect them. I'm not good yet, but I know how to practice to become good.
A marketing plan. Marty will stress the importance of this extensively.
Tools. Marty helped me order these from various tool companies. He also made custom fog covers for my light.
LOTS of notes
Confidence in my potential and the determination to reach it.
Thanks Marty.
---
 Taken with permission from www.doording.com:
Josh Mills and David Lee
 Can't say enough good things about Marty and the training he offers. I am so much further along after two weeks than I ever thought possible. I had really high expectations coming into this because of all the reviews I read and he still managed to exceed my already high expectations.
 Hey josh, how's it going man? I'm finally home after three weeks of traveling. Now time for the training program. How'd Tuesday n Thursday go? And i 100% agree, Marty is an amazing teacher. Yoda!
 It's going well ... I just got started on the practice program yesterday. I had a ton of stuff to catch up on from being gone for two weeks. I ended up doing some paint work on Tuesday but I did get to fix a few dents Thursday and it went pretty well. I was slow as hell and struggled a bit with getting access or leverage but at the end of the day i was able to get them fixed and billed $400 for my first day ever doing dents